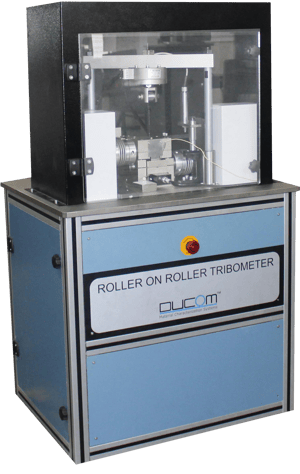 twin disc tribometer
Roller on roller with Pure sliding to rolling contact stress, block on roller, pin on roller and ball on roller configurations on a single platform
Roller on roller features independently driven twin disc configuration offering rolling-sliding contact and slide to roll ratio between 0 to 200%. With a high capability up to 8 kN, contact pressures up to 4 GPa and above between steel surfaces are effortlessly achieved. Such a configuration is widely accepted as a reliable precursor to FZG tests. Being modular, multiple contact configurations are possible, making this a true 'multifunction' tribometer for materials and lubricants used in rolling element bearings, gears and rail-wheel applications.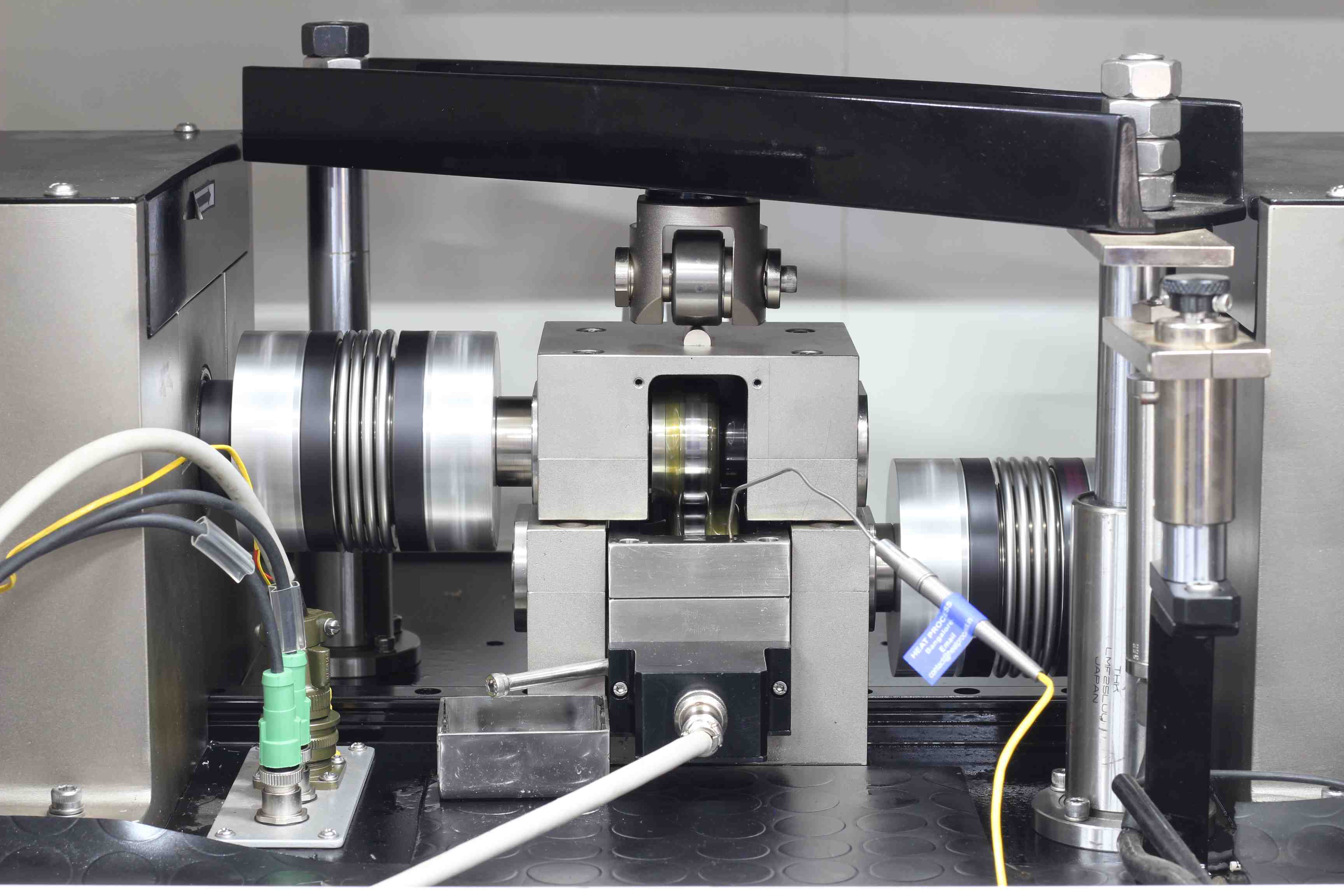 high load
The twin disc tribometer comprised of two parallel spindles where each spindle is driven by a variable speed motor, automated loading unit, heating unit, friction torque sensor and linear wear sensor.
The pneumatic-controlled load provides 8000 N force at the contact and flexibility of continuous, ramped and custom load profiles. Crowned on flat roller geometry using 47 mm diameter discs geometry provides 4 GPa contact pressure.
high speed
The speed of each roller is controlled independently of each other using two servo motors. Therefore, variable slide to roll ratio (0 to 200%) can be achieved by setting different spindle speeds for two rollers (up to 2000 rpm). The motion direction can be set to clockwise or counterclockwise to simulate lubricant entrainment and reverse entrainment (starvation) conditions.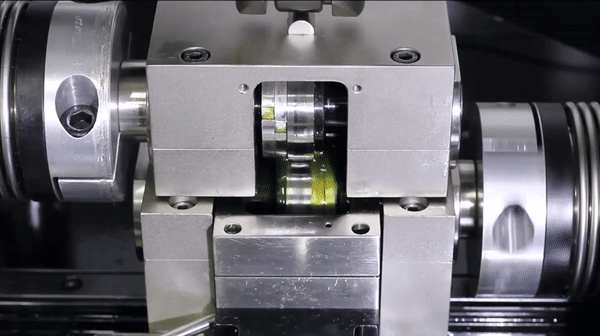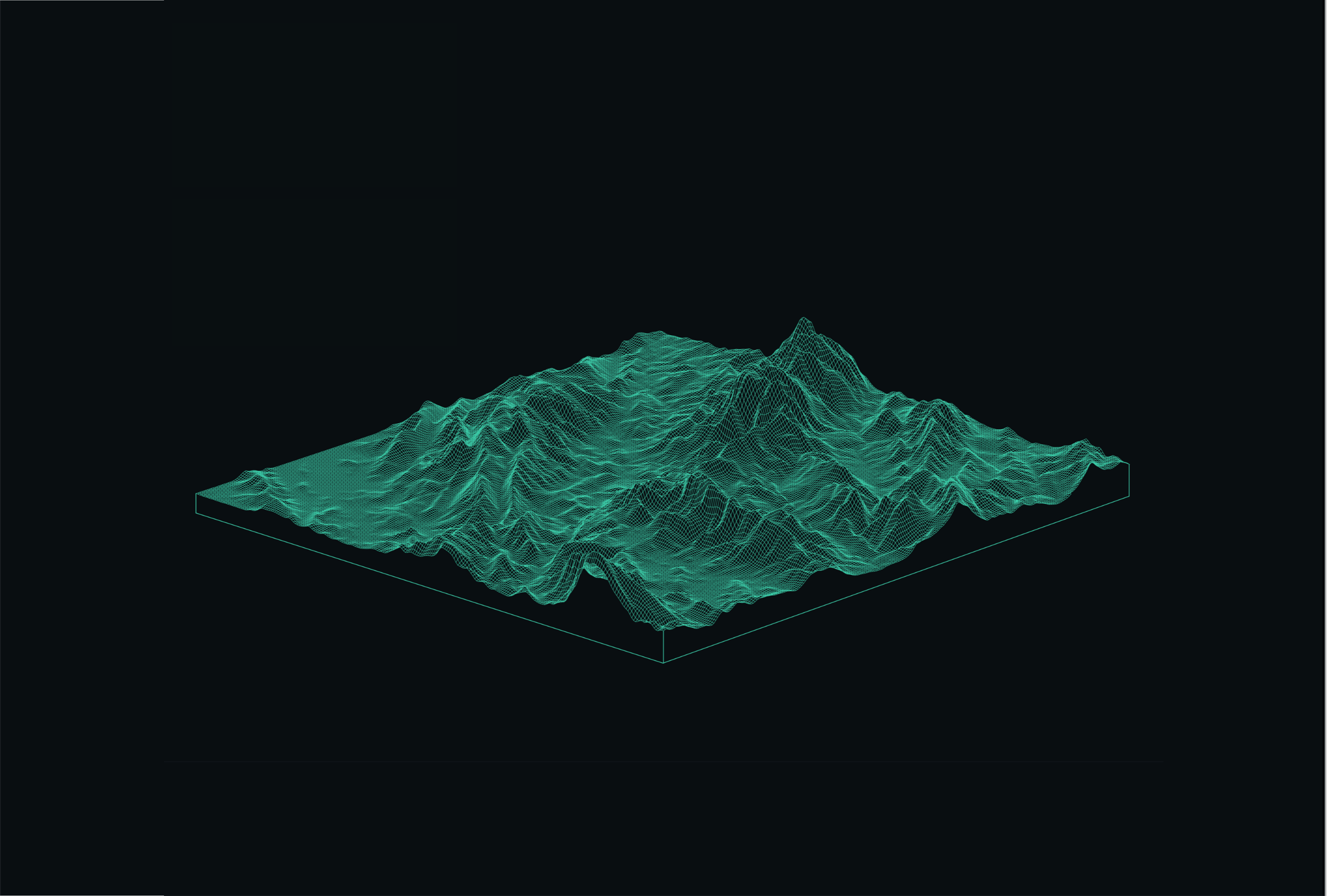 MODULARITY

Multifunctional system capable of changing the test configuration from line contact (roller on roller) to area (pin on roller or block on roller) or point (ball on roller) contact. Along with the ease of operation, it helps to achieve high throughput research.
The calculated contact pressures for 8 mm block on 47 mm roller at 8 kN is ~ 1.25 GPa.
high temperature
The experiments can be conducted in lubricated or dry conditions. Temperature in the oil cup is managed using resistive heaters and thermocouples (up to 120 °C). In the case of a dry test condition, the entire test area is heated by a furnace up to 700 °C.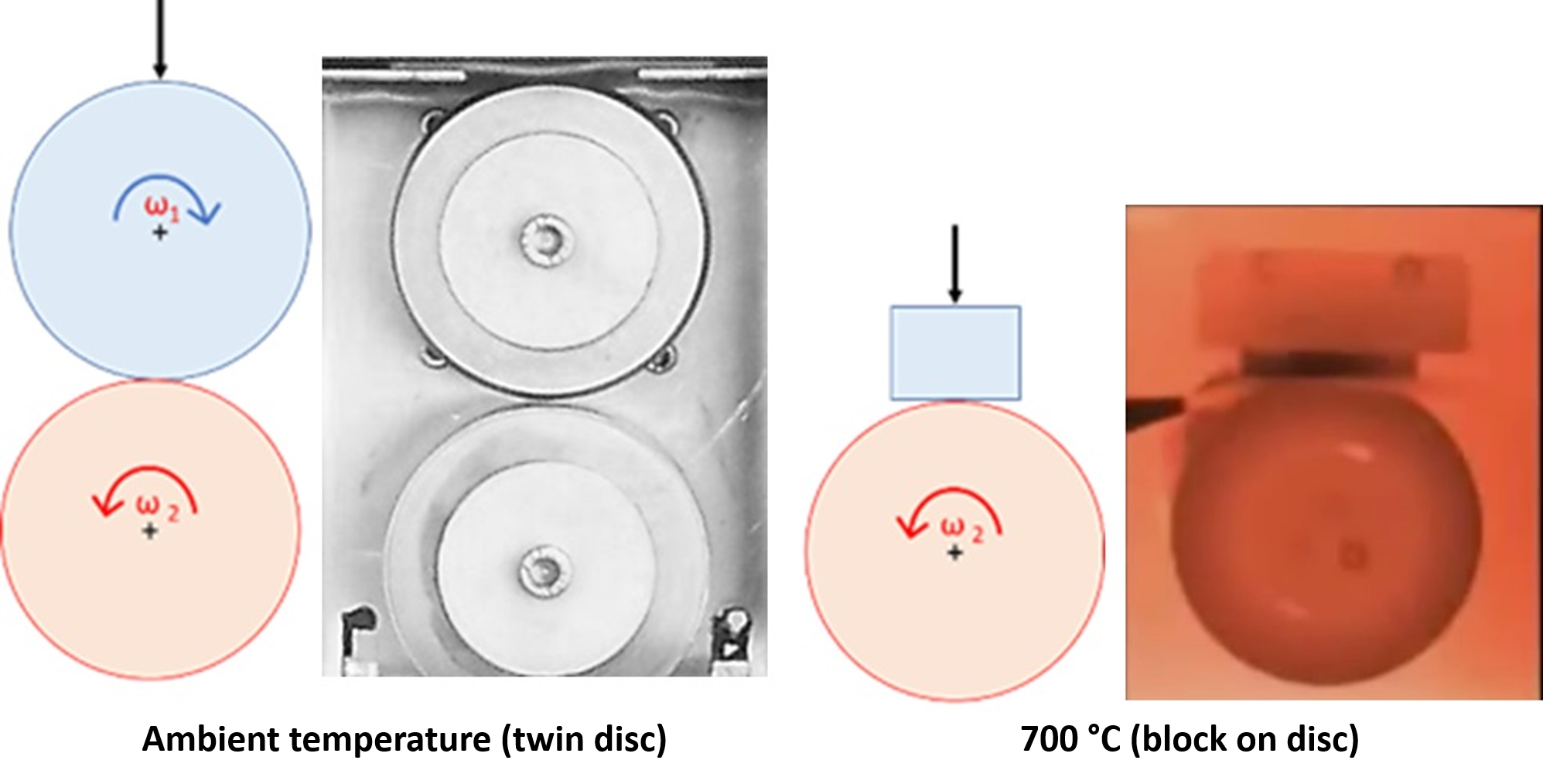 unmatched Technology
class leading technologies at your fingertips
friction torque and linear wear sensors

Friction torque is generated during the motion of the rollers in contact. This friction torque is acquired by a torque sensor. Linear displacement of the rollers due to creep and wear is measured using a linear variable differential transducer (LVDT) fixed to the stationary block on the top spindle assembly

PRECURSOR TO FZG

Roller on roller offers > 4 GPa contact pressures and realistic elliptical contacts using steel-steel pairs. It is accepted as a reliable precursor for FZG scuffing tests. Read more about Twin Disk and Traction Machine for Extreme Pressure Lubrication.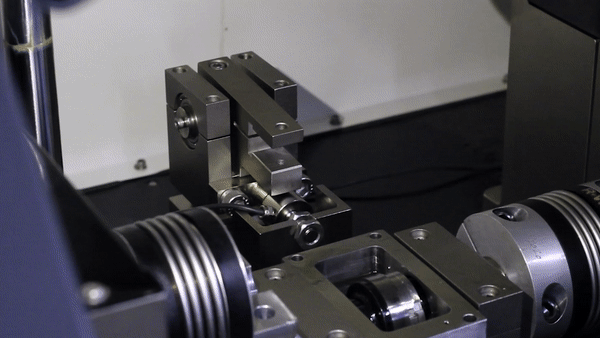 MOOHA - THE DIGITAL ASSISTANT FOR YOUR LAB
MOOHA is an A.I. enabled digital assistant that can be used together with, or in place of your Laboratory Information Management System (LIMS). It has powerful device management, reporting, statistics and support functionalities.
MOOHA is a digital assistant that can help with keeping your lab instruments in excellent health, and your test data secure and easily accessible. Its built-in automatic logging and reporting functions keep data tamper proof and reliable and complete logbook of your instrument is automatically generated while maintaining secure and automated audit trails.
MOOHA is available on desktop and mobile platforms.

Automatic Scar Prediction
THE POWER OF

ARTIFICIAL INTELLIGENCE

(A.I.)
Every RoR test is concluded by measuring the wear scar on the test specimens. This has so far been the most manual aspect of the RoR testing and prone to user errors and interpretation. The difficulty in visual observation of scars further increases the test variability. With our proprietary automatic scar prediction software, you can now harness the power of Artificial Intelligence (A.I.) to automatically make consistent and precise wear scar measurements, overcoming the human error and greatly reducing the test variability.
APPLICATIONS INCLUDE
Screening of lubricants for high load power transmission systems at different slip ratios (i.e. gear oils).
Investigate the tribological behavior of lubricants and steel interaction up to 120°C.
Study the role of material structure in its friction and wear resistance behavior.
High-temperature tribology (up to 700°C) of materials used in metal forming.